Bâloise Vie Luxembourg has launched life-insurance360.com: the first digital white paper to explain Luxembourg's life insurance options.
This fully digital facility reinvents the concept of the white paper and the way in which people can find information about life insurance by explaining the sector in an innovative manner through a dedicated website.
Over a dozen chapters are set to be published at regular intervals between now and 2020. They will be supplemented with original supporting "satellite" content such as infographics, case studies, fact sheets, interviews and videos.
The first chapter of the white paper is available online, along with a teaser of the second chapter, featuring an exclusive interview with the Luxembourg Minister of Finance.
This is a decidedly modern platform, both in terms of design and philosophy. It features content created by the experts at Bâloise Vie Luxembourg, yet is also open to external contributors, such as audit firms, lawyers, family offices, private bankers, intermediaries and figures from the financial community.
Why life-insurance360.com?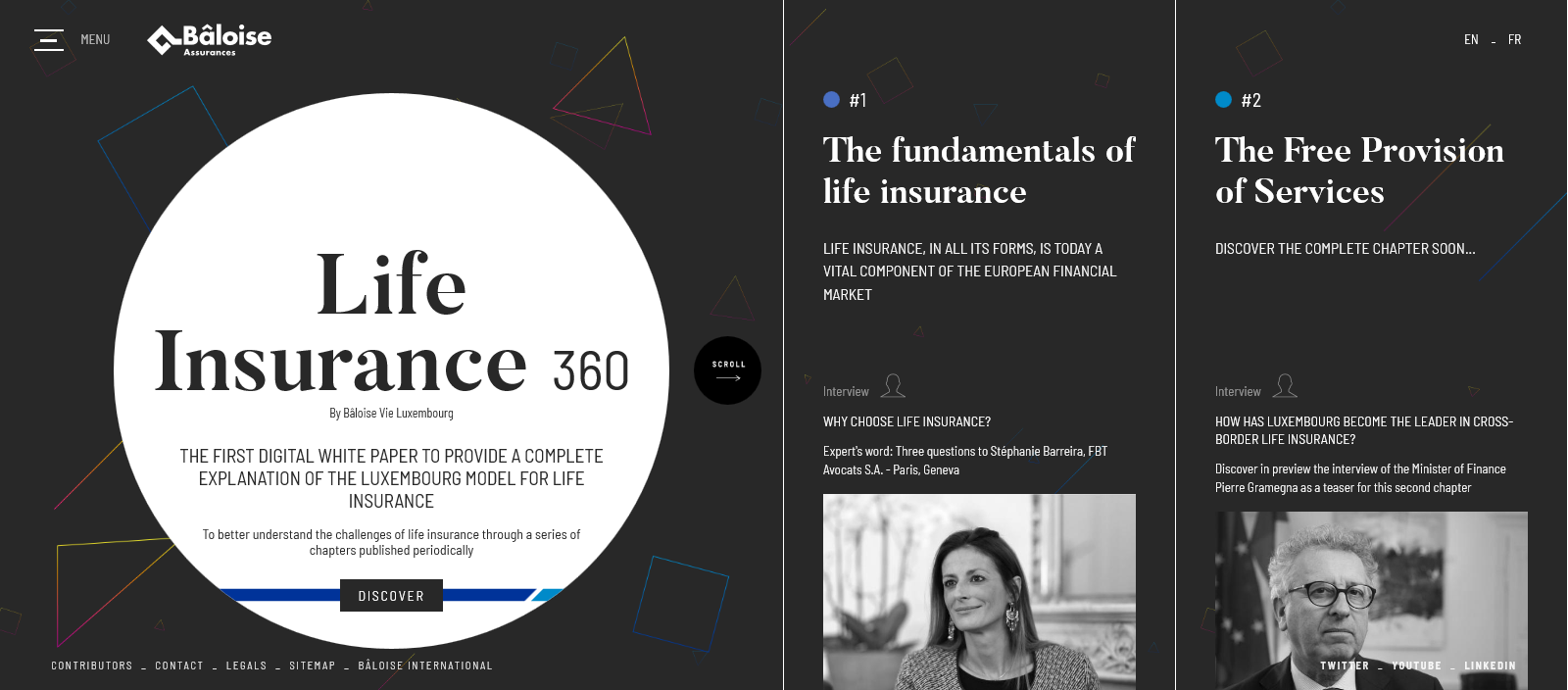 According to a 2018 study sponsored by the ACA, 90% of providers in the life insurance sector use the internet to keep up to date on news in the life insurance market. However, they are often unable to find the information they are looking for on insurance companies' websites. They are disappointed by the lack of information available on such websites, as well as the lack of digital tools at their disposal to allow them to showcase their expertise in Luxembourg's life insurance options.
In response to this need voiced by the market, Bâloise has introduced life-insurance360.com. Its intention is for this website to become the sector's foremost reference source for information on international life insurance.
But what exactly is Luxembourg-based life insurance distributed through the FPS scheme?
Implemented by the third European Directive on Life Insurance, the freedom to provide services (FPS) scheme aims to create a single insurance market.
This Directive gives any approved insurance company based in a member country of the European Union (EU) the benefit of a European passport that allows it to conduct its business in any other EU country without the requirement of a physical presence in that country.
Thus, a client resident in an EU country is able to take out a life insurance policy with a provider based in another EU country.
Luxembourg has been selected by a large number of insurance providers as a base from which to distribute their products across the European Union via the FPS scheme – a state of affairs that speaks to the country's renowned expertise on the subject, as well as its highly favourable environment.
The freedom to provide services scheme now accounts for the majority of the Luxembourg life insurance market: over 80% of life insurance policies in the Luxembourg market are issued through this scheme.
Bâloise Vie Luxembourg is a growing company, and is one of the top life insurance providers in Luxembourg.