Basel, June 15, 2017. Baloise celebrates the start of above-ground construction works for the first building of its Baloise Park project with a cornerstone ceremony. This is the first of three buildings. It will stand 89 metres tall on completion and be home to the Mövenpick Hotel and several floors of office space.
The Baloise Park complex is being built in the direct vicinity of Basel's central station. In addition to the high-rise building, which will feature prominently on Basel's skyline, the complex will include new Group headquarters for Baloise and an additional office building for the company's training centre. From 2020, the large public square that will be part of Baloise Park will serve as a new gateway to Basel's by then remodelled Aeschengraben boulevard. Baloise will thus be creating an attractive link between the railway station and the city centre.
The laying of the cornerstone for the tower building today marked the official start of construction works above ground. Baloise's active engagement in the arts scene is reflected in its unusual choice of cornerstone, which takes the form of a copper pillar designed by artist Karsten Födinger (winner of the Baloise Art Prize 2012) that is to be anchored in the floor of the building. Guests had the opportunity to sign the pillar with a personal dedication. The cornerstone pillar will remain exposed and on display as a contemporary artefact in the basement of the building.
All in all, Baloise plans to invest more than CHF 300 million in its facilities in Basel. "The laying of this cornerstone today continues a tradition of distinctive architectural projects being realised by Baloise in Basel," says Andreas Burckhardt, Chairman of the Board of Directors of Bâloise Holding AG, at the ceremony. "The construction of the Baloise Park complex is also intended as an investment in Basel as a centre of commerce and important trade fair location. This investment underlines the importance of Basel as a location for our company".
A large part of the new high-rise building will be occupied by Hotel Mövenpick, a five-star hotel that will offer 264 rooms. The top seven of a total of 24 floors will be rented out as office space. "The planned buildings will create 1,300 new office workspaces," explains Martin Wenk, a former member of the Corporate Executive Committee, enthusiastically. "The new buildings and our existing Baloise offices at Aeschengraben 21 combined will offer a modern and innovative work environment in an outstanding location for around 2,700 employees." In his role as Head of Asset Management, Martin Wenk played a crucial part in the design and planning of Baloise Park right from the start and he will continue to chair the project steering committee for the entire duration of the construction works. "After starting the dismantling of the old buildings on 2 November 2015, laying this cornerstone constitutes another important milestone for the Baloise Park project," says Martin Wenk. Works to construct the remaining two buildings are scheduled to begin in early 2018. The relevant planning permissions have already been obtained. By 2020, all of the buildings in the Baloise Park complex should be ready for occupation.
Contact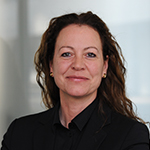 Isabelle Guggenheim
Public Affairs & Sustainability
Phone

+41 58 285 74 71

Email
Contact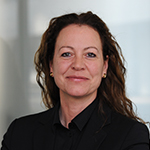 Isabelle Guggenheim
Public Affairs & Sustainability
Phone

+41 58 285 74 71

Email
Die Baloise Group ist mehr als eine traditionelle Versicherung. Im Fokus ihrer Geschäftstätigkeit stehen die sich wandelnden Sicherheits- und Dienstleistungsbedürfnisse der Gesellschaft im digitalen Zeitalter. Die rund 7'300 Baloise Mitarbeitenden fokussieren sich deshalb auf die Wünsche ihrer Kunden. Ein optimaler Kundenservice sowie innovative Produkte und Dienstleistungen machen die Baloise zur ersten Wahl für alle Menschen, die sich einfach sicher fühlen wollen. Im Herzen von Europa mit Sitz in Basel, agiert die Baloise Group als Anbieterin von Präventions-, Vorsorge-, Assistance- und Versicherungslösungen. Ihre Kernmärkte sind die Schweiz, Deutschland, Belgien und Luxemburg. In der Schweiz fungiert sie mit der Baloise Bank SoBa zudem als fokussierte Finanzdienstleisterin, einer Kombination von Versicherung und Bank. Das Geschäft mit innovativen Vorsorgeprodukten für Privatkunden in ganz Europa betreibt die Baloise mit ihrem Kompetenzzentrum von Luxemburg aus. Die Aktie der Bâloise Holding AG ist im Hauptsegment an der SIX Swiss Exchange kotiert.