Basel, February 25, 2019. Baloise Insurance is renewing its partnership with FC Basel 1893 and will remain a Business Partner for a further three years as of the 2019/2020 season. The renewal of the contract means that the long-standing successful collaboration will be continued consistently.
The partnership between Baloise Insurance and FC Basel 1893 is a long-standing tradition of more than 30 years and a safe bet in both good and difficult times. As a Business Partner, Baloise Insurance will continue to act as the namesake of the Baloise Lounge. The presence includes brand advertising and various appearances in print and online FC Basel media as well as in the stadium.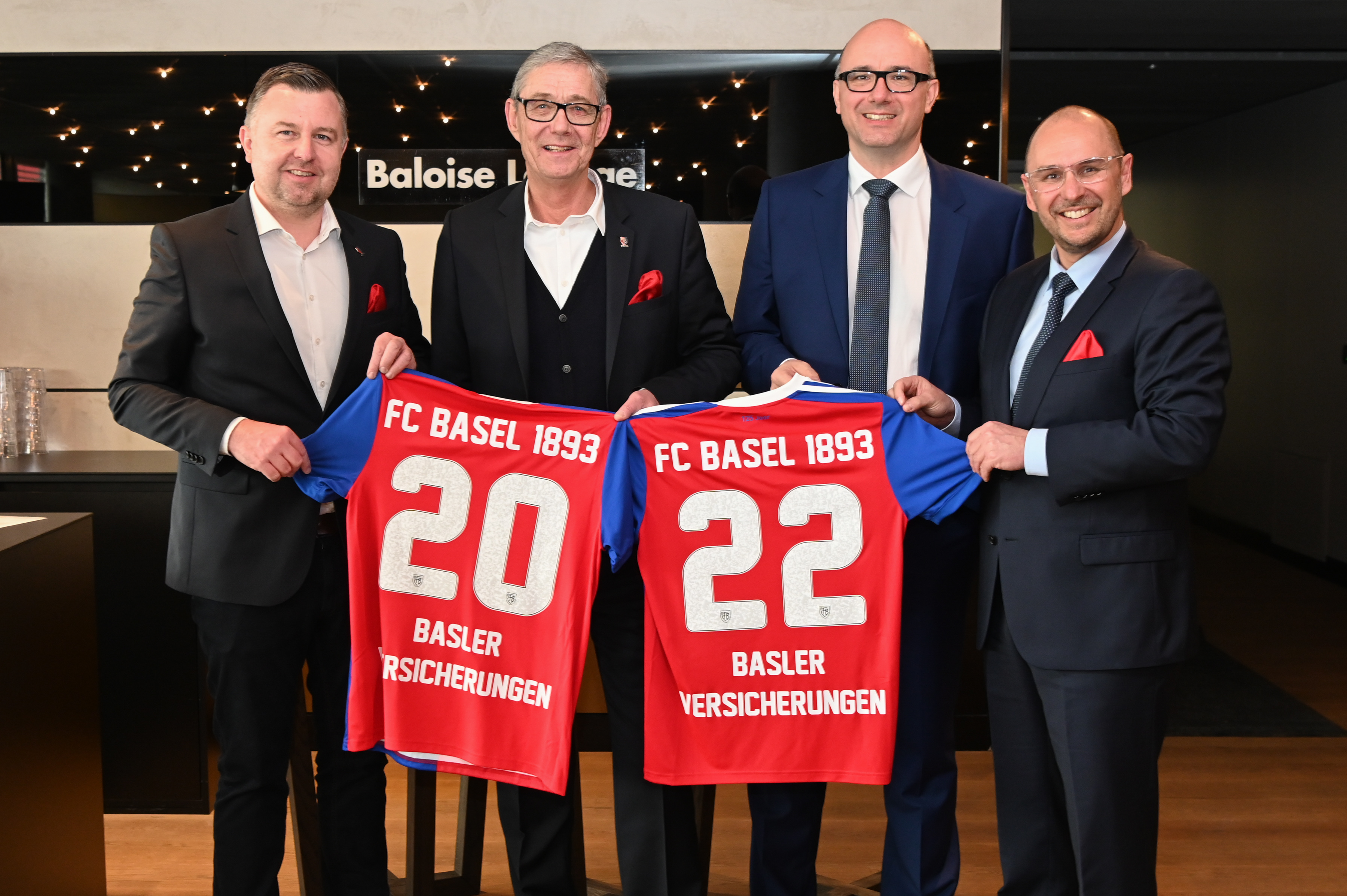 "As an insurance company, we care for long-standing relationships and partnerships that are based on mutual trust. The renewal of our collaboration with FC Basel 1893 is therefore consistent and makes sense," says Michael Müller, CEO of Baloise Switzerland. Marc Hallauer, Head of Marketing & E-Commerce, adds: "For a company based in Basel, a commitment to FC Basel 1893 is much more than just location marketing. It is a matter of conviction and truly an affair of the heart."
Die Baloise Group ist mehr als eine traditionelle Versicherung. Im Fokus ihrer Geschäftstätigkeit stehen die sich wandelnden Sicherheits- und Dienstleistungsbedürfnisse der Gesellschaft im digitalen Zeitalter. Die rund 7'300 Baloise Mitarbeitenden fokussieren sich deshalb auf die Wünsche ihrer Kunden. Ein optimaler Kundenservice sowie innovative Produkte und Dienstleistungen machen die Baloise zur ersten Wahl für alle Menschen, die sich einfach sicher fühlen wollen. Im Herzen von Europa mit Sitz in Basel, agiert die Baloise Group als Anbieterin von Präventions-, Vorsorge-, Assistance- und Versicherungslösungen. Ihre Kernmärkte sind die Schweiz, Deutschland, Belgien und Luxemburg. In der Schweiz fungiert sie mit der Baloise Bank SoBa zudem als fokussierte Finanzdienstleisterin, einer Kombination von Versicherung und Bank. Das Geschäft mit innovativen Vorsorgeprodukten für Privatkunden in ganz Europa betreibt die Baloise mit ihrem Kompetenzzentrum von Luxemburg aus. Die Aktie der Bâloise Holding AG ist im Hauptsegment an der SIX Swiss Exchange kotiert.